Skip to Content
Airfield Design Services
HCS Group leadership maintains a long-term team relationship providing engineering, design, commissioning and technical services to airfield facilities. Our Team successfully serves the aviation industry worldwide at airfields, airports, Air Force Bases, Heliports, training bases, etc. by providing engineering in support of military and commercial programs in accordance with FAA, ICAO and UFC guidelines and requirements.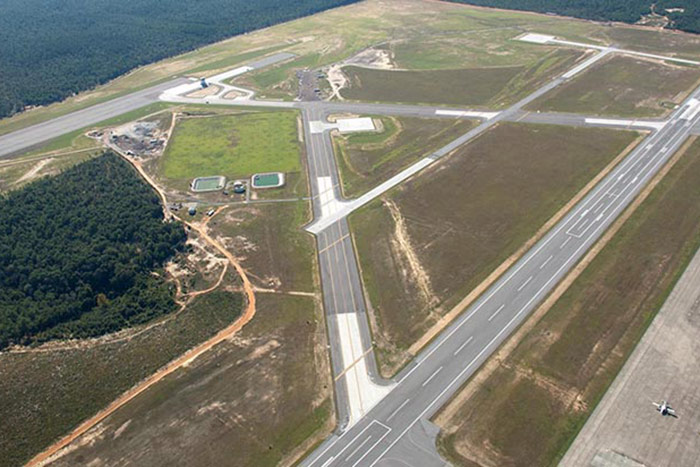 Featured Project
F-35 STOVL Simulated Carrier Practice Landing Pad
Eglin Air Force Base, Duke Field, Florida
Client: USACE – Mobile District
Construction Cost – $27,700,000 
HCS Group was the electrical consultant under a multidiscipline design task order, providing full services Charrettes and Design in preparation for the JSF F-35 training mission at Eglin AFB, Duke Field.
HCS Group was tasked with several electrical design projects at Duke Field. 
USAF version JSF F-35, BAK-14 systems with control and NAVAIDS.
Marine Version JSF F-35, carrier simulation LHD/LHA-7 deck for vertical landings. The deck included a control tower, refueling stations, airfield lighting systems, optical landing system (VSTOL OLS), a wave-off/cut lighting system, and a full mock carrier deck lighting system. STOVL (Short Takeoff/Vertical Landing) pads were provided for vertical landing training missions.
To sustain total airfield requirements, a new, Duke airfield lighting control system was designed.
Retained for Title II Services – LEED Achievement: Silver Horizontal Criteria
Systems
HCS Group Airfield Design Team members have years of experience in performing engineering for airfield lighting, visual and instrument navigational aid systems (NAVAIDS), flight simulators, and airfield infrastructure including touch screen state-of-the-art base wide airfield lighting control systems. Systems include:
Runway edge lighting, medium and high intensity, runway in-pavement touchdown zone and centerline lighting
Taxiway edge and centerline lighting
Approach lighting systems
Airfield guidance signage and Runway Distance Markers (RDM)
Precision Approach Path Indicator (PAPI)
Visual Air Navigational Facilities
Instrument Landing Systems (ILS)
Very High-Frequency Omni-Directional Radio Range (VOR)
Airfield lighting control systems
STOVL landing pads
Carrier Simulation LHD/LHA – 7 Deck
Optical Landing System (VSTOL OLS)
Wave-off/cut lighting systems
Apron floodlights
Support Facilities
HCS Group projects include support facilities such as the following:
Beddown Facilities, Hangars and Ground Support Projects – JSF F-35
Beddown Facilities, Hangars and Ground Support Projects – USAF F-22
Beddown Facilities, Hangars and Ground Support Projects – Navy P-3 and P-8
Beddown Facilities, Hangars and Ground Support Projects – MQ-9 Drone
Beddown Facilities, Hangars and Ground Support Projects – USAF E3 AWACS
Aircraft Maintenance Hangars – Rotor Wing
Air Traffic Control Towers
Enclosed Engine Noise Suppressors
Squadron Operations (Squad Ops)
Aircraft Maintenance Unit (AMU)
Arm/Disarm Pads & Ammunition Bunkers
Aircraft Ground Equipment (AGE)
HAZMAT, LOX and Aviation Fueling Facilities and Storage
Fire/Crash Rescue Facilities
Aviation Fueling Facilities & Storage Systems
Rotor Wing Hot Refuel Pads
Helicopter Wash Racks
Fixed and Tehered Radar Sites
Programs
HCS Group provides concept analysis through final design and implementation services with our highly qualified team and has worked on airfield projects throughout the USA and OCONUS working on major programs including but not limited to the following:
JSF-35 Program: Eglin AFB Hangars, Airfield upgrades and Munitions projects
JSF-35 Program: Duke Field Airfield, new STOVL and Practice Landing Deck
F-22 Program: Tyndall AFB Hangars, Airfield upgrades and Munitions projects
Twelfth Air Force (12th AF): New Forward Operation Location (FOL), Manta, Ecuador
SOCSOUTH: Headquarters Master Plans and Facility Designs – Homestead, FL
SOCSOUTH: Renewable Energy Programs in Latin America
Republic of Colombia: Plan Colombia (Airfields, Heliports, Base Camps, etc.)
Republic of Peru: Air Bridge Denial (Airfields, Heliports, Base Camps, etc.
SOUTHCOM: Counter Narcotics Infrastructure – Latin America
Your Source for Engineering Consulting and Technical Solutions Around the Globe