Skip to Content
Technical Services
HCS Technical Services Group provides full-service Power System Analysis, studies, testing, evaluations, reports, etc., that incorporates facility site surveys by engineers and technicians, testing and evaluation of electrical power systems and computer modeling. Reports include full system analysis, recommendations, and estimated costs for infrastructure corrections and/or upgrades.
Analysis & Equipment
Specific Analysis: The HCS Group leadership provides onsite power system analysis, monitoring, evaluation, infrared analysis, testing, event recording, etc. The following power system parameters can be evaluated in the HCS Group Engineering analysis:
Certified Level III IR Scans: Overhead Distribution, Substation, Switchgear, Distribution Equipment
Power Quality Analysis
Load Studies and Analysis
Transient Analysis
Grounding and Lightning Protection Analysis
Harmonic Current and Voltage Studies
Short Circuit and Arc Flash Studies
Coordination Studies
Power Factor Correction Studies
HCS Group owns and operates all the equipment needed (over $50,000 net worth) and it is calibrated on a regular basis.  The following is a partial list of the equipment used to view the issues you may have, before you have to view the results of not finding them in time.
Dranetz Power Visa Power Quality Meter
Fluke 434 Power Quality Meter
Fluke 43B Single Phase Power Quality Meter
Fluke Ti32 IR Camera w/Wide Angle Lens and Telescoping Lens
AMEC Grounding Electrode Resistance Clamp-On Meter
Hubbell True RMS Load Looker Amp Probe w/Hot Stick
Kerol Portable Weather Station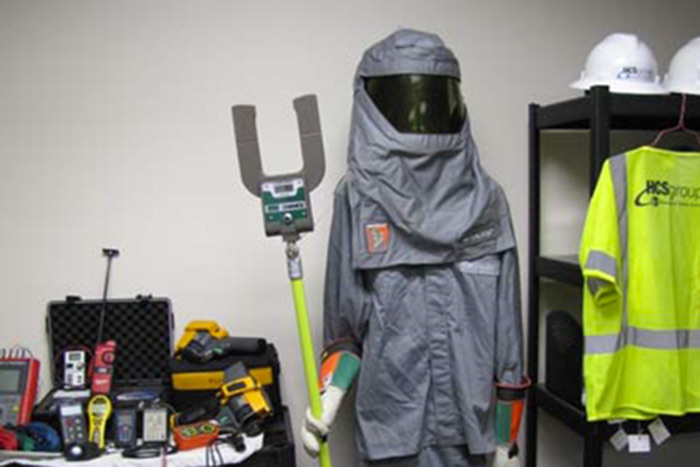 Featured Project
Electrical ICAS and Power System Studies
673rd Medical Group Hospital
Elmendorf Air Force Base, Alaska
Client: Air Force Medical Services Agency
Construction Cost – N/A
Joint Base Elmendorf – Richardson is located in Anchorage, Alaska. Its mission is to support and defend US interests in the Asia Pacific region and around the world. It is the home of Alaskan Command, Alaskan NORAD, Joint Task Force Alaska, the Eleventh Air Force, the 673rd Air Base Wing and the 373rd Medical Group.
The hospital is a 55-bed facility providing both inpatient and outpatient care to approximately 159,000 active duty and retired veterans. The Hospital is a VA Joint Venture facility and the VA has constructed a 180,000 SF clinic/business office building next to the hospital.
SCOPE: HCS Group was tasked to conduct a comprehensive electrical infrastructure/power distribution system assessment. Included in the assessment was a complete power system analysis, IR Scans, a fault-current analysis, a coordination survey and an arc-flash analysis. As-built riser diagrams and floor plans were also prepared to assist in finding, repairing and testing the existing electrical system components.
Our Technicians Are Level III Infrared Scan Certified
Whether your network or system is critical care or mission critical we know how important it is to you. The professionals at HCS Group can assist you in your energy delivery system planning and engineering needs; to facilitate and enhance system reliability, sustainability and performance.
Services
Power Quality Analysis: Complete power quality analysis and reports are provided including harmonic studies, voltage transients, load swings, infrared studies and evaluations, all supported by technical field measurements and engineering analysis. The HCS Group Leadership has performed these services throughout the USA and worldwide.
Infrared Analysis: Complete IR Analysis has the capability of detecting electrical, mechanical and building envelope issues that normally would not be discovered in a normal inspection by utilizing FLIR and FLUKE Thermal Imaging Camera technology.  This technology can assist in locating impending problems before they cause harm, corrosion, rust, moisture infiltration, nuisance tripping or even total system shut downs. Let the HCS Group team assist you in protecting your investment, critical systems and operations.
Infrared Analysis
Safety First and arc flash awareness
Electrical/Mechanical/Building Envelope
Immediate Onsite Reports and Analysis
Flexible Scheduling-After Hours/Shutdowns
Prevents Catastrophic Failures
Identifies Unsafe and Hazardous Conditions
Identifies Thermal Envelope Problems
Identifies Roof Leaks
Expert Analysis & Solutions
The HCS Group Power System Team members have years of experience in performing power systems studies, analysis and power system engineering for projects worldwide. The HCS Group Technical Services Team can provide full system short circuit analysis, arc-flash studies, coordination studies, load flow, dynamic power system evaluations, and a host of other critical system modeling features.
State of the art and most robust software available is utilized in-house by our team of professionals at HCS to model, evaluate and predict real system behavior. Proposed designs can be modeled to enhance the engineering process while existing systems can be modeled to evaluate system vulnerability issues, failure points, modifications and/or required upgrades.
Specific Projects: The HCS Group engineering and technical teams have performed specific power system analysis services at numerous sites and facilities around the globe. Under contracts with the US Army Corps of Engineers, US Air Force and the State Department, USAID; HCS has provided these services throughout the USA including Alaska and Hawaii; and over 50 countries in Central America, South America, the Caribbean, East and West Europe, Africa, the Middle East and Asia.
Your Source for Engineering Consulting and Technical Solutions Around the Globe