Skip to Content
Power & Electrical Services
The HCS Group Power System Team members have years of experience in performing power systems studies, analysis and power system engineering for projects worldwide. The HCS Team can provide full system short circuit analysis, arc-flash studies, coordination studies, load flow, dynamic power system evaluations, and a host of other critical system modeling features.  HCS Group is familiar and capable with working with networks worldwide with varying voltage distribution potentials and frequencies. The Team is well versed in the International Building Codes, European and Asian electrical codes and equipment requirements.
State of the art and the most robust software is utilized in-house by our team of professionals at HCS to model, evaluate and predict real system behavior. Proposed designs can be modeled to enhance the engineering process while existing systems can be modeled to evaluate system vulnerability issues, failure points, modifications and/or upgrade requirements.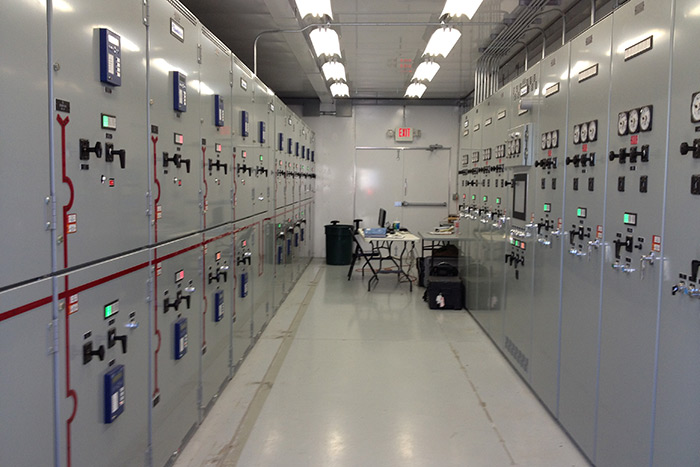 Featured Project
Upgrade Hospital Substation, Emergency Power Supply Switchgear and Mechanical Systems
David Grant Medical Center, Travis Air Force Base, California
Client: Air Force Medical Services Agency
Construction Cost – $24,000,000
HCS Group was tasked to oversee and develop the requirements, design, engineering, Title II CM, Commissioning and full inspection services for an electrical and mechanical upgrade project at the David Grant Medical Center (DGMC) at Travis AFB, CA. The project consisted of Facility Condition Assessments, survey, documentation, evaluation and analysis of the total Medical Facility power and HVAC requirements. The project design included substation and emergency power system upgrades, Switchgear, AHU and HVAC systems, nurse call systems, elevators, commissioning, test and balance, etc.
Facility Size: 744,350 Square Feet
Substation Size: 15 mva
Voltage Levels: 69 kV, 15 kV, 5kV and low voltage
Project Included
Facility Condition Assessment
Develop Requirements and Program
Over-See all Designs
Review Contractor's Proposals & Submittals
Construction Management and Inspections
Final Commissioning
Power System Studies
Include but are not limited to the following:
Survey Existing Conditions & System Performance – Energy Uses & Losses
Voltage Profiles, Voltage Drop & Regulation
Load Studies – Types, Profile & Swings and Load Flow Analysis
Short Circuit, Protective Device Coordination Studies and Arc Flash Analysis
Transient and Stability Analysis
Harmonic and Power Quality Analysis
Reliability Analysis & Contingency Plan Analysis
Power Factor Analysis and Control, Reactive Power/VAR Flow Studies
Equipment & Insulation Integrity Evaluation
Component and Cable Ampacity Analysis
Grounding Analysis
Power Generation Planning – Peak Shaving, Cogeneration & Load Management
Network Interactions – Harmonics, Capacitors, Transients, Neutral Currents, etc.
Recommendations – Translating Energy into Costs
Power System Engineering
Includes but is not limited to the following:
Electrical Transmission/Distribution up to 138 kV
Primary & Secondary Unit Substations
Data Centers & Uninterruptible Power Supplies (UPS)
Primary and Secondary Unit Substations
Total Energy Plants (TEP) & Central Energy Plants (CEP)
Prime Power Plants & Backup Power Plants
Renewable Energy Systems (Solar and Wind)
Healthcare, Laboratories, Essential Electrical Systems
Load Control and Load Shed Systems
Power System Protection: Power System Relays, Ground Fault, Sectionalizers, Re-Closures, fuses, surge protection, etc.
Controls, Operation and Maintenance
Power System Design
Power systems should be designed to be resilient, maintain mission first and consider islanding critical infrastructure by utilizing smart grid and micro-grid technology. Protection should be considered on the basis of safe and reliable operation of the system.
Whether your network or system is critical care or mission-critical, we know how important it is to you. The professionals at HCS Group can assist you in your energy delivery system planning and engineering needs to facilitate and enhance system performance.
Your Source for Engineering Consulting and Technical Solutions Around the Globe