Skip to Content
Healthcare Engineering and Design Services
HCS Group leadership maintains a long-term team relationship providing engineering, design, commissioning, and technical services to healthcare facilities and is a member of the American Society for Healthcare Engineering (ASHE). Our Team successfully serves the healthcare industry worldwide at hospitals, medical clinics, dental clinics, and ambulatory medical care facilities.
Project Management & Engineering
HCS Group leadership specializes in providing project management and team leadership for all types of healthcare facility building system renovations, additions, the design of new vertical and horizontal construction projects, Central Energy Plants, renewable energy solutions including Title II Services.
HCS Group led a contract with the US Air Force Medical Support Agency (AFMSA) and provided engineering and design support for full-service medical services planning, project management, project engineering, commissioning services, energy monitoring, and Energy Conservation Investment Program (ECIP) solutions.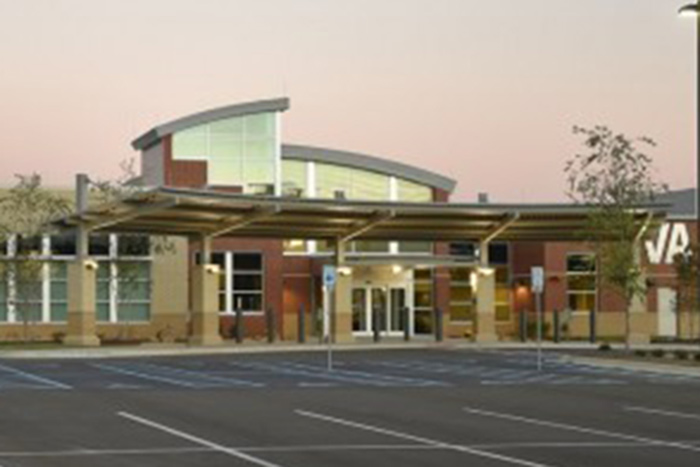 Featured Project

Department Of Veterans Affairs Health Care Clinic
Huntsville, Alabama
Client: VAMC – Huntsville
Construction Cost – $15,000,000
HCS Group was the Designer of Record for Mechanical/Electrical/Plumbing including all utilities and infrastructure, fire protection and alarm, structured cable systems, access control, CCTV surveillance, emergency call, IDS, etc.
State-of-the-art lighting controls, LED, daylight harvesting systems and energy efficient HVAC systems were utilized in the design of this facility.
Design services performed for a new Department of Veterans Affairs Outpatient Clinic located in Huntsville, Alabama. This project was part of the Design/Build Lease-back Program.
HCS Group performed Title II CM, Commissioning and full inspection services.
MAJOR DESIGN FEATURES
Daylight Harvesting
Sub Utility Metering
Compliant with mental health clinic design standards for lighting
Size: 50,000 net usable square feet
Leed Certification Goal: Silver
Healthcare Systems
The HCS Group team is familiar with, and has expertise in specialized healthcare systems including the following:
Essential Electrical Systems (EES)
Prime and Standby Power Plants
Central Energy Plants
Renewable Energy Systems
Structured cabling, Security and Specialty Systems
Fire Protection, Alarm and Mass Notification Systems
Medical gas
Infection control
Labs, OR, Chemical biological radiographic systems
Elevators
Building envelope
AT/FP
Projects
Under HCS Group team leadership, the following are typical examples of MEP infrastructure projects:
MEP Renovations & CEP – David Grant Medical Center, Travis AFB, CA ($24 mil)
MEP Renovations & CEP – Incirlik Medical Hospital, Incirlik AB, Turkey ($12 mil)
MEP Renovations – Keesler Medical Center, Keesler AFB, MS ($25 mil)
MEP Renovations – Wilford Hall, Lackland AFB, TX ($10 mil)
MEP Renovations – Langley Air Force Health Center, Langley AFB, VA ($5 mil)
MEP Renovations – Yakota Medical Hospital, Yakota AB, Japan ($5 mil)
MEP Renovations – Malcolm Grow Medical Center, Andrews AFB, MD ($2 mil)
Electrical Infrastructure Upgrade – Misawa Medical Hospital, Misawa AB, Japan  ($5 mil)
MEP Renovations – Various healthcare facility locations including the following: Wright Patterson AFB, OH; Scott AFB, IL; Offutt AFB, IA; Whiteman AFB, MO; Seymour Johnson AFB, NC; Shaw AFB, SC; Luke AFB, AZ; FE Warren AFB, WY; Elmendorf AFB and Eielson AFB, AK; Fairchild AFB, WA; Minot AFB, ND; Mt. Home AFB, ID ($1 mil+); and work at almost all other Air Force Bases throughout the United States and OCONUS.
Short Circuit, Coordination and Arc Flash Studies
Eglin Medical Hospital, Eglin AFB, Florida
Wilford Hall, Total Energy Plant Lackland AFB, TX
Misawa Medical Hospital, Misawa AB, Japan
Yakota Medical Hospital, Yakota AB, Japan
Incirlik Medical Hospital, Incirlik AB, Turkey
David Grant Medical Center, Travis AFB, CA
Madigan Army Medical Center, Joint Base Lewis-McChord, WA
JBER Hospital, Joint Base Elmendorf-Richardson, Anchorage, AK
Veterans Administration Experience
Renovations and New Sterile Processing Distribution (SPD) Facility, James A Haley VA – Tampa, Florida ($5 mil)
New VA Medical Clinic: Savannah, Georgia ($18 mil)
New VA Medical Clinic: Huntsville, Alabama ($15 mil)
New VA Medical Clinic: Ft. Wayne, Indiana ($4 mil)
New Campus Primary Switchgear: Overton Brooks VA Medical Center, Shreveport, LA
Site Infrastructure Upgrades: Dallas VA Medical Center, Dallas, TX ($10 mil)
Parking Deck Upgrades: West Palm Beach VA Medical Center, FL (3 mil)
Your Source for Engineering Consulting and Technical Solutions Around the Globe