Skip to Content
Sustainable Design Services
HCS Group has experience designing high performance and sustainable buildings worldwide with knowledge of local available materials, equipment and utility resources. Our designs utilize these local materials and methods to produce a highly sustainable and maintainable site, infrastructure and/or facility.
Expertise and Experience
HCS Group has designed numerous facilities with Resilient Islanded Micro-Grid (solar, wind and hybrid) power networks creating energy security on site while designing the facility with minimum energy consumption footprint.
Sustainable Design Features are considered in all aspects of each project to help preserve the environment by making more environmentally conscious design decisions to assist in the conservation of energy, water, materials, etc. The design direction should lead to economic benefits, reduced maintenance and operational costs as well as a healthier environment and facilities.
HCS Group personnel are LEED AP professionals and members of the US Green Building Council. Our energy programs have assisted the USAF in obtaining ENERGY STAR ratings for several facilities during 2009 through 2012. One of the facilities, Aviano Medical Clinic located at Aviano Air Base, Italy, was the first facility outside of the USA allowed to achieve an ENERGY STAR rating.
Resilient Islanded micro-grids are the key to energy security and standalone sustainable energy solutions with local based control capabilities.
The experienced engineers at HCS Group can assist you in your consideration of your Micro-Grid solutions and mission security.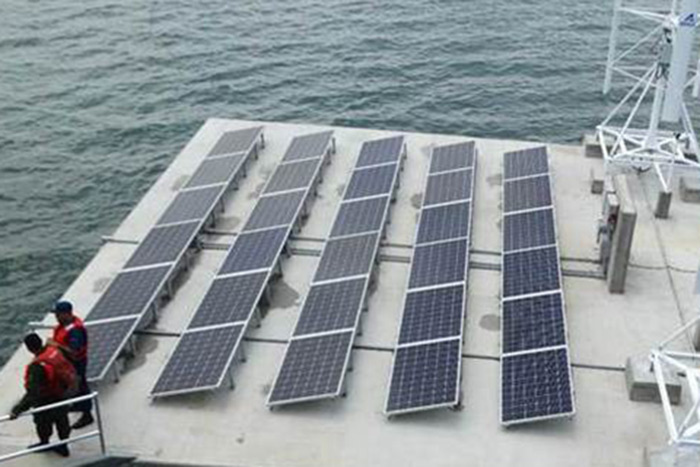 Featured Project
Counter Narcotics Forwarding Ops Base and Fixed Docking Structure
Cayos Miskitos, Nicaragua
Client: USACE – Mobile District
Construction Cost – $3,000,000
Located off the coast of Nicaragua, HCS Group designed a Counter Narcotic Forward Operating Location at Cayos Miskitos. This hybrid solar/wind power system Energy Platform provides 100% of the power needed by the remote ocean Forwarding Operating Base platform in support of the Nicaraguan Marine Force. The system was designed as an off-grid Resilient Islanded Micro-Grid network with battery supplies to store enough energy to supply the base with sufficient power for running 24/7 mission operations.
Critical Design Solutions
Funds for this project were made available by the US and the goal is to reinforce the fight against drug trafficking. The outpost is supplied by solar and wind energy and is cemented over 150 concrete pillars buried to a depth of more than 10 meters in the ocean floor, which makes them resistant to hurricanes. The building also has a bedroom, kitchen, dining area and a recreational area for the use of the sailors. Installed antenna will allow the outpost to maintain better communication with other posts located inside and outside Nicaragua. This outpost is not only a benefit to Nicaragua, but also to other Central American countries.
Scope: HCS Group was tasked with the design of an energy platform combining solar and wind power for an offshore base for Counternarcotic Interdiction. The design included solar panels, wind turbines, battery storage systems, electrical lighting and power distribution.
Your Source for Engineering Consulting and Technical Solutions Around the Globe